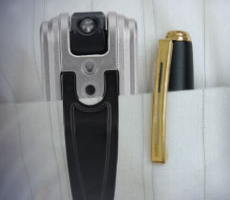 The inconspicuous pen in the pocket will not draw any unwanted attention to the user. Much as the stick of miniature camcorder, uCorder, which is worn on the pocket and appear unobtrusive enough but can record everything in view. While not all of us are 007 agents, the ability to record a crime unfolding right before your eyes without alerting the criminals, for instance, could be quite useful. Alternatively, recording your boss ranting or verbally abusing employees and subsequently uploading it on YouTube would give you immense satisfaction, provided, of course, that the recording is done without his or her knowledge.

Available in two models, IRDC150 and IRDC250, the uCorder wearable video camera/recorder offers 1GB and 2GB built-in flash memory respectively. The device allows SD Memory extension of up to 8GB for a longer recording period. Both models will capture recording in AVI standard files which can be easily played on any media player. The built-in LED will serve as a flash light and help in recording in low-light environment. Both IRDC150 and IRDC250 are easily connected to any laptop or computer via a USB cable for file transferring. The IDC250 can also be used as web-com when it is connected to computers.
The two pocket video cameras are only 3-1/2" high, 1" wide and ½ thick. The IRDC150 is priced at $ 80 while the IRDC250 is $100.