Mio Knight Rider GPS, a Knight Rider-themed portable navigation device (PND), is a product of GPS manufacturer partnered with Universal Studios. It uses actual voice of William Daniels for audible directions.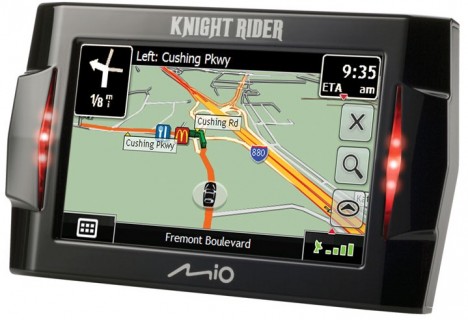 It is an easy-to-use and solid entry-level PND that comes with a pretty reasonable price tag of $269.

Design
Aside from the Knight Rider logo above the display, the system is just like a number of other in-car GPS with slim profile and black chassis. One of the cool thing is the flashing red LEDs that flank either side of the display once it is turned on. It simulates the "scanner" lights on KITT and pulsates with any audible instructions.
The unit measures 5.5″(wide) x 3.1″(tall) x 0.7″ (deep) and weighs 6 ounces. It comes with a 4.3-inch touch screen with a 480×272-pixel resolution. You can choose a number of map colors, and day/night option that will automatically change the map colors once the sun sets for better nighttime viewing.
The user interface is very intuitive with the menu pages feature large and clearly marked icons. The unit has predictive text
that automatically come up with a list of possible results as soon as you start to enter letters.
There's a power button and an SD card slot, and a mini USB port at the bottom. The unit comes with a car charger, a USB cable, a vehicle mount (dashboard and windshield), and reference material.
Features
The unit is equipped with 20-channel SiRF StarII InstantFixII receiver with preloaded with TeleAtlas maps of the United States and Canada. You can search location by entering a specific address, an intersection, a zip code, or city center. It also allows storage of the location in favorites list, recent destinations, or navigate straight to your home address.
The GPS supports multidestination trips. The device has more than 4 million points of interest (POI) includes all the major categories as well as more specialized interests.
There are several routing options, such as from shortest distance or fastest time, with or without freeways, toll roads, and so forth. It also supports automatic route recalculations, route simulation, and has a detour function. However, the real-time traffic updates subscription is not free.
Maps can be presented in 2D or 3D view, and is toggle-able with the arrow icon on the lower-right side of the screen. When driving, the bottom displays current street name, while the top shows your next turn (name, direction, and distance) and estimated time of arrival. A list of text-based turn-by-turn directions is also available if you want to review it before or during your journey.
Specification
Manufacturer : MiTAC Industrial Corp.
Part Number : MIO-KITT300 GPS System
Receiver : SiRFstarIII – 20 channel
Connectivity : USB
Voice : Navigation instructions
Antenna : Built-in
GPS receiver : 20 channel
Features : Built-in speaker, Preinstalled POIs
Built-in Memory : 1 GB
Software Included : TeleAtlas United States and Canada, MioMap 2008 Maps
RAM : 64 MB
Display Type : LCD – Widescreen
Resolution : 480 x 272
Diagonal Size : 4.3 in
Display Features : Touch screen Display
Slot Provided : SD Memory Card
Battery Run Time : (Up To) 2.5 hour(s) Lithium ion