Mio will be introducing two new S-series models for the U.S. market in June, i.e. Mio Moov S401 and S501. The Moov S501 features a 4.7″display and ultra slim body which is Mio's thinnest design ever. Whereas, the Moov S401 comes with a 4.3″ display. Both stylish models feature a rubberized, non-skid bezel for easy handling, large, widescreen, anti-glare, touchscreen displays and convenient Home Button for instantly returning to the Main Menu.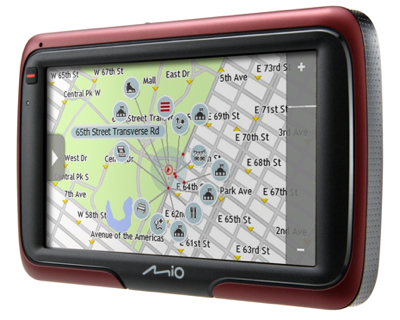 The Mio S-series offers a complete navigation experience with new ways to plan trips and explore along the way as well as at the destination. With the Google Send-to-GPS function, the user can plan ahead by sending locations from Google Maps. NavPix lets users navigate to geo-coded photos.
An improvement from traditional POI searches, Mio's Explore 360 provides an expanded, easy to read view of surrounding POIs by simply clicking any spot on the map. The Keyword Search is intuitive that allows users to input keywords, partial words, or even combine keywords for more specific search results. Furthermore, the Mio Capture function allows users to save favorite places and routes to share and re-visit later with family and friends.
The money saving features, Economical Routing function, saves fuel by selecting more efficient routes with fewer turns and stops. Meanwhile, Local Gas Price Search finds the lowest fuel prices in the area. The PC companion software for the S-Series, MioMore 2 Desktop, can help the consumer calculate mileage and fuel economy.
S-Series comes with Text-to-Speech (spoken street names) pre-loaded in three languages, while Lane Guidance which prepares drivers to be in the proper lane for turns and Speed Limit Alerts. It is for safety and confidence on the road
The S401 comes pre-loaded with 4 Million POIs and US maps (50 states and Puerto Rico). The S501 is preloaded with 12 Million POIs and North American maps (US and Canada). Both are ready to go straight out of the box with no computer set-up required.
Price and Availability The MSRP for the Mio Moov S401 and S501 are $179.99 and $199.99 respectively. The devices will be available in June 2009.