In order to earn revenue from downloaders, many file hosting services such as RapidShare, MegaUpload, DepositFiles, File Factory, Easy-Share, Gigasize and others resort to every possible avenues to force and coerce visitors into clicking on banner ads or pop-up advertisements, or fork out money to upgrade (buy) premium access.

The tricks used by file hosting services include countdown timer, pop-up window when clicking, repetitive refresh or excessive navigation before actual download link, prominent display of premium account upgrade, and worse, outright money payment required for access to download.
For users who looking into software that can help to download from free file hosting sites, Mipony is one of the many software available. Mipony is a free download manager specially designed to automate the downloading of files of free host sites such as Rapidshare, Megaupload, Hotfiles and many others. With Mipony ability to download from file hosting sites without actually visit the sites, user can avoid many host sites inconveniences, such as countdown clock waiting time and captcha verification.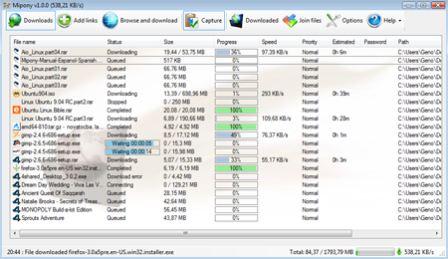 Features of Mipony include:
Embedded web browser.
No need to have Premium accounts and work with free account.
Fully automatic download.
Verify and check file links and indicate if the files are available to be downloaded.
It optimizes your connection.
It also works with Premium accounts of Rapidshare, Megaupload and Hotfiles.
Automatically join divided parts with HJSplit.
Capture from the clipboard individual links or any text that contains any number of links.
Plug-in in a bar format to launch downloads from Firefox and Explorer directly to Mipony or to open the site that is being viewed in the browser of Mipony.
Configure Flashgot to send links to Mipony.
Analyze full sites looking for links.
Automatic update of the data base with the sites supported.
Mipony current supports Megaupload, Rapidshare, Hotfile, Easy-share, Gigasize, Mediafire, Depositefiles, Megaporn, Filefactory, Uploading, 4shared, Letitbit, Sendspace, Zshare, Freakshare, Storage.to, Uploadbox, Uploaded.to, Ziddu, Netload, Sharex, x7.to, Box, Zomgupload, Jumbofiles, Data.hu, Linfsave, Share-online, Badongo, Kewlshare, Ugotfile, Sharingmatrix, Filesend, Bigandfree, Zippyshare, Bitroad, Oron, Extabit, Shareflare, Filedude, Onionshare, Mangoshare, Rayfile, Turboshare, Egoshare, 2shared, ifile, Divshare, Filesmonster, USAupload, Novaup, Vip-file, Anonym, Megashares, Filebase, Appscene, Hackerbox, File-share, Filefront, Nakido, 4sahred-china, Xun6, File-rack, Cramit, Hotshare, Mandamais, Midupload, Crazyupload, Usershare, Dl.Free.fr, File-upload, Speedshare, Adrive, Enterupload, Hellshare, Fileserve, VSpace, Fileflyer and many more.
Download Mipony: Mipony-Installer.exe