It is quite embarrassing if you forget to attach a file in the email and only realize that after the email was sent to a list of people. In fact this is a common mistake and could be happened to any one of us especially when you have a busy daily schedule. How to prevent this kind of mistake from happening in future? Now with Missing Attachment Powertoy, it will able to remind you whenever you forget to attach a file to an email in Microsoft Outlook 2007.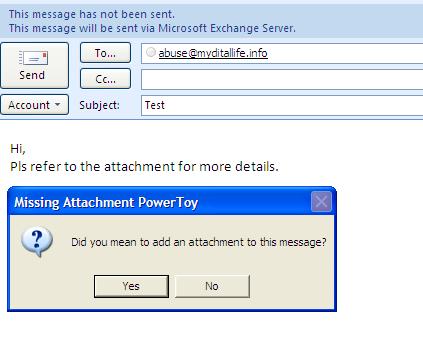 Missing Attachment Powertoy works as a plugin for Microsoft Outlook 2007. It scans the email content based on the latest reply before it is sent and looks for words or phrases in the mail content that indicates an attachment. Once it detects such words or phrases but the mail doesn't have an attachment, a dialog will be prompted to remind and provide you with the option to revise the mail before sending. You are allowed to customize the list of words or phrases based on your personal email habits and words that are commonly used by you.
Missing Attachment Powertoy only consume 1.93MB of your hard disk space and it is absolutely free to download. If you feel it is useful to you, go and download it from here.