Do you in dilemma while shopping for a new mobile phones to enhance your mobile experience? The world's leading provider of mobile application testing services, Mobile Complete has try to fill niche consumer need with the launch of its new interactive Web program, named as TryPhone. As its name implied, the new TryPhone web service is created to provide mobile consumers the ability to test-drive the latest mobile devices online before they buy.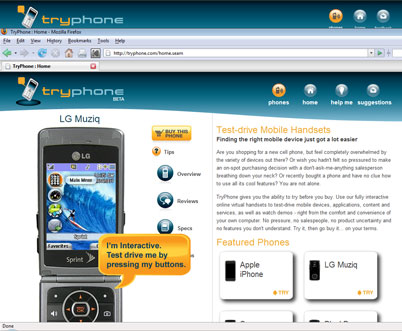 "Historically, going to a store and purchasing a cell phone has been an unpleasant process for consumers who are faced with pushy salespeople and little opportunity to test devices," said Faraz Syed, CEO of Mobile Complete. "So, after several years of serving the developer community, we realized the growing number of self service oriented consumers in need of a more convenient interactive purchasing experience. In response we launched TryPhone, which is a natural extension of our proven, widely renowned DeviceAnywhere service. TryPhone's goal is to empower consumers to make educated decisions when choosing phones right for them, as well as helping them to understand how to take advantage of all the cool features available on today's devices. Plus, it enables consumers to take complete control of the purchasing process, without ever having to step foot in a store."
"One of the overriding goals of TryPhone is to better educate consumers about which mobile handsets are right for them. TryPhone provides a series of demos and tutorials to guide the consumer after they have purchased their phone — saving them the time and hassle of trying to read manuals or figure out applications by themselves," added by Faraz.
For now, you can only try 4 mobile devices including Samsung Juke (carried by Verizon), LG Muziq (Spring), BlackBerry Pearl (T-Mobile and others) and Apple iPhone (AT&T), with a promise that more models will be added in the near future. Try the phone now at TryPhone.com.