The MobileMe iDisk application which was announced during Apple's Worldwide Developer's conference in early July by Apple is now available for iPhone and iPod Touch users. The iDisk application allows the users to access and store their files or MobileMe contacts on the Apple's servers.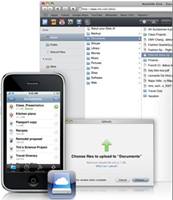 The iDisk has been designed to allow users to view and send files which including music files, iWork documents, Microsoft Office documents, PDFs and QuickTime movies. For those users who want to share a file with someone else can just tap the share icon next to the file to email a download link which works great with both small and large files.
MobileMe iDisk for the iPhone and iPod Touch which running on iPhone OS 3.0 is available for free download at App Store. Although, the iDisk application is free but the users require to have an active subscription to MobileMe for email and file storage after 60 days of free trial (Individual).