The leader in providing innovative learning and consumer reference content for iPhone, Modality Inc has launched its Brain Quest Blast Off game for iPhone. This new application is developed in partnership with the Workman Publishing Company which based on America's #1 educational bestseller known as Brain Quest.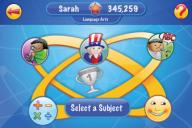 The games has been designed into three challenge levels, each level consisting of five knowledge areas such as math, language, arts, science, social studies and grad bag. There have a series questions ranging from word jumbles to math questions.
Besides earning points, the players will collect dozens of different trophies for their achievements. Additionally, the players also can go through hundreds of questions which covering all topic areas even they are not in playing mode.
Currently, Brain Quest Blast Off Grades 3 & 4 are available at App Store for the price of $9.99 per grade. However, Grades 2,5,6 and 7 are scheduled to release later.