When looking for deals with cheapest price online, monitoring availability of a hot product on web retailer, news update that change frequently not so frequent enough, or whether non-streaming stock price hitting the target or not, usually the most common way to update and refresh the web pages is press F5, or Reload button. The manual method is ineffective, and have a very high risk of 'forgetting' to update.

For Mozilla Firefox web browser user, there is a better way of refreshing web pages, not only automatically, but also can monitor the content of the web pages to alert the user when there is change detected.
Page Update Checker (PUC) add-on for Firefox is an extension that automatically checks to see if web pages have changed. After installing Page Update Checker as an addon for Firefox, user can simply right click on any page in Firefox and select "Monitor for Updates" at a customizable frequency.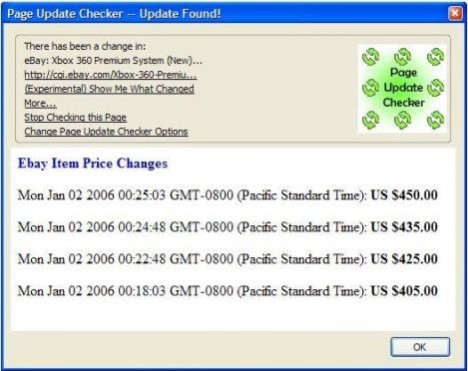 Feature of Page Update Checker:
Notification via status bar icon.
Sound alerts.
Custom update checkers using a little snippet of JavaScript code.
Built-in Filter Checker to ignore certain types of information when checking for updates.
Ebay Bid Price checker checks for increases in bids on Ebay items.
Download and install Page Update Checker from addons.mozilla.org.