Sometimes you may wonder what are activities that being done by your kids especially when they spend long hours sitting in front of computer screen. When you walk close to them, they may pretend to do some other stuff but when you walk away, they will do other things like browsing sexual photos, playing game, watching movie and etc. It is really hard for you to monitor each and every activities done by them without any help of utilities. Here, Spy Screen is a utility that is able to snapshot your computer screen and save the image to the destination folder of your choice.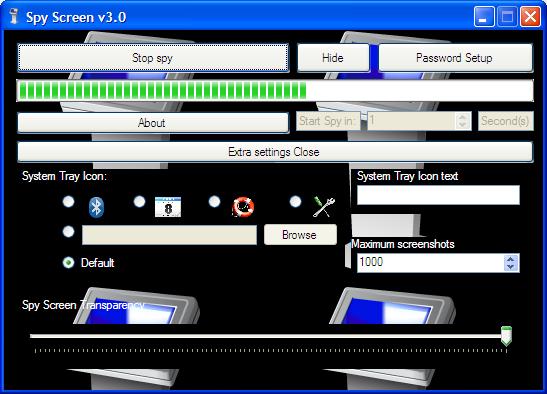 Spy Screen is a free and tiny utility that is able to monitor every activities done by users on a computer. Once it is installed, just go to C:\Program Files\Fahmid (www.fahmid.com)\Spy Screen v3.0, then execute Spy Screen.exe to launch it. From there, you can set the time in second(s) to start the spy, and also configure a password to protect it from launching by somebody from system tray without your authorization. Besides, it allows you to set the maximum screenshot you would like to capture and the default setting is 1000. To start the spy, just click on Start spy button and it will prompt you to select the destination folder to save the screenshots that it has captured. Once you have completed the destination folder selection, it will start to capture screenshot of your computer screen after the progress bar reaches full (it takes 9 seconds.to be full) and save it in the destination folder. Click on Hide button to minimize it and it will stay at system tray silently to continue capturing screenshots of your computer screen.
Spy Screen ver 3.0 is absolutely free to download and is compatible to run on Windows XP/Vista/7. Hopefully this tool will able to help you to keep an eye of your kids especially when they are exposed too much to computer activities.