If you are dealing a lot with image files and need a simple converter utility that can convert between different image formats on the fly, then this utility could be a good solution for you. Named as Moo0 ImageTypeConverter, it can convert any types of famous picture formats ranging from .JPG, .GIF, .PNG, .BMP and .ICO by just dragging and dropping the specific image files into a custom built interface without complicated steps and setup required.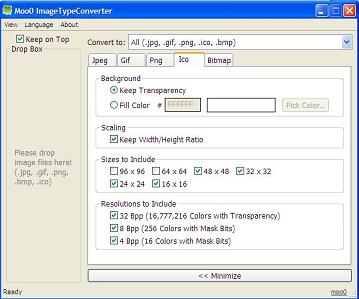 Once download and install the utility, users will be brought to a simple interface. Basically, no setup is required except the selection of image format fields on the type of conversion format that you would like to convert to. Then, just drag and drop the respective image files and it will be converted and stored at the same folder as original file automatically. If you are looking for more customized features, click on 'Advanced Options' and you will able to configure some settings of the converted output files accordingly. For instances, under JPEG format, there is a way to pick the background color as well as the desired quality of conversion. Similarly for GIF and BITMAP formats, users can choose to keep background as transparency mode and output file resolution and these are fully customized depending on users' needs. The same goes to PNG and ICO formats with the most options available in ICO when trying to convert a normal image file into icon image.
Consumed at around 2.5MB of your hard disk space, Moo0 ImageTypeConverter covers almost all commonly used image formats and works great in Windows Operating System. Best thing is, its simple drag and drop feature will able to serve anyone particularly useful for those that needs quick way of images conversion in daily life.