Motorola and Kodak have jointly announced the launch of new MOTOZINE ZN5, the first mobile phone to combine world-class innovation from both companies – Motorola's ModeShift Technology and KODAK Imaging Technology, aiming to deliver an immersive and easy mobile imaging experience.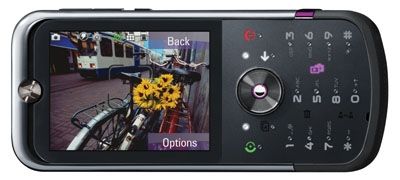 The latest MOTOZINE ZN5 mobile phone will feature an 2.4-inch TFT display (256K colors/240 x 320 pixels) and ultra-fast 5 megapixel camera with auto-focus, Xenon flash and optimized settings for low-light environments.
"Today's creative consumers not only want to be the photographer, but also the retoucher, the exhibitor and the critic," said Jeremy Dale, corporate vice president, mobile devices marketing, Motorola, Inc. "The MOTOZINE ZN5 lets them be all the things they want to be."
In addition, this 5 megapixel camera phone also incorporates Motorola's patented CrystalTalk technology to reduce the background noise, enabling users to enjoy clear conversation.
"KODAK Imaging Technology combines Kodak's unparalleled experience in imaging science with easy connectivity to the company's vast portfolio of products and services," said John Blake, general manager digital capture and imaging devices group, vice president Eastman Kodak Company. "We have redefined the quality, convenience and connectivity of mobile imaging devices. We have worked closely with Motorola to create a device that not only delivers Kodak-quality pictures, but allows consumers to explore a wide range of options for sharing their photos with friends and family around the world."
According to the company, "With one touch, photos can be viewed right from the home screen; no menus, no searching. This multimedia device provides a fun, quick and easy way to share favorite photos. Pictures can be uploaded via Gallery Link in one simple click and instantly shared to the KODAK Gallery (www.kodakgallery.com) to be viewed, stored and shared with friends and family. ShoZu can be used to upload photos to a variety of social networking sites. ZN5 comes with KODAK EASYSHARE Software, the world's most used photo software, making it easy to organize, edit, share, store and find mobile pictures. Consumers can transfer pictures to a computer via USB, Wi-Fi or Bluetooth wireless technology and print wirelessly on Bluetooth-compatible KODAK All-in-One Printers and at KODAK Picture Kiosks."
The new MOTOZINE ZN5 handset will be first shipping in China starting July 2008 and is expected to available worldwide through the rest of the year.