The world's leader in communications, Motorola has announced its new MOTO V10 in Korea. The clamshell mobile phone has been designed with black and red gradation, and has similar features with its predessesor V9.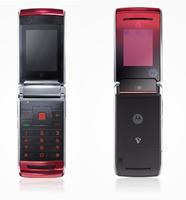 Featured with two LCD displays of 240 x 320 resolutions with a 2.2-inch TFT internal display and a 2-inch external display, the new 2G flipper phone is also equipped with a 2-megapixel camera. It boasts a media player which supports AAC+, AAC, MPEG-4, H.263, H.264 and MIDI formats, integrated GPS with navigation and has built-in 256MB of internal memory.
Besides, it is Bluetooth enabled, supports up to 2GB of microSD card and comes with a 740mAh battery.
The availability date for new MOTO V10 with 11.9mm thickness is not yet announced as well as the price.