The Motorola Clutch i465 which has previously announced by Motorola is now available via Boost Mobile. The phone is featured with a QWERTY keyboard for sending email and text messaging. Beside that, it also featured with a walkie-talkie, a GPS, Bluetooth enabled, comes with camera, has built-in speaker, supports push-to-talk, unified messaging and threaded messaging.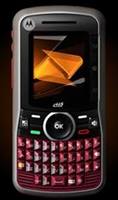 "We recognize that iDEN users want a dependable push-to-talk device with enhanced messaging capabilities," said by Rick Gadd, vice president, Motorola Mobile Devices. "We're proud to bring this first-of-a-kind Motorola device to Boost Mobile as a no contract option to meet the needs of budget-conscious consumers."
"Motorola Clutch is a terrific addition to our diverse handset line-up. If you like to text as much as you talk, this is the device for you," said by Neil Lindsay, chief marketing officer, Boost Mobile. "Boost Mobile offers a full suite of solutions for every customer with a range of handsets to choose from and budget-friendly, dependable services such as our $50 Monthly Unlimited plan."
The Motorola Clutch i465 with Boost Mobile connectivity is now available for the price of $130 via boost mobile online. While, the Web and walkie-talkie service is available for the price of $50 a month with unlimited calling messaging, wireless Web and walkie-talkie service.