The leading provider of wireless and wireline communications services, Sprint has announced that consumers will be able to get Motorola Clutch i465 push-to-talk phone in all Sprint sales channels later this summer. It's the tough, rugged handset which claims as the first Nextel Direct Connect messaging-centric device that brings the strength of a full QWERTY keyboard to iDEN family.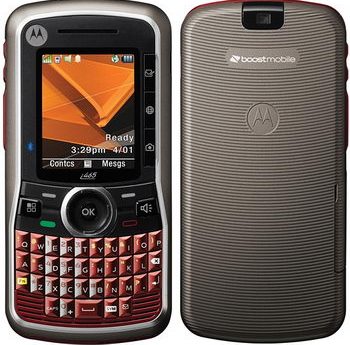 "Sprint Nextel Direct Connect customers are used to the immediate communications offered by push-to-talk devices, but Motorola Clutch i465 with a QWERTY keyboard gives those customers a better way to instantly communicate with friends, family and colleagues," said Danny Bowman, president of Sprint's iDEN Business Unit. "By combining Nextel Direct Connect with text messaging, Sprint customers have two of the most efficient ways to get business done wirelessly."
The Java-enabled Motorola Clutch i465 meets Military Specification 810F for low pressure, high and low temperatures, dust, shock, vibration and even solar radiation, featuring VGA camera, 1.8-inch screen with 128 x 160 pixels resolution, GPS, Bluetooth, and Group Messaging that allows for instant text communications with a large group of up to 20 people.
"Motorola Clutch was designed to give serious texters and talkers multiple ways to get the word out," said Rick Gadd, vice president for Motorola Mobile Devices. "With a full QWERTY keyboard featuring shortcut keys, IM-style texting and push-to-talk technology which works like a verbal IM, Sprint customers are able to keep in constant contact, no matter how they prefer to communicate."
"During these cost-cutting times, Motorola Clutch i465 is a dependable and durable handset perfect for those who require a messaging handset at a good price," added by Bowman. "Nextel Direct Connect customers recognize the value of instant communications in the form of push-to-talk offers, and mobile messaging extends the ability of our customers to reach the people they need to when time matters most."
The new Motorola Clutch i465 will hit Sprint stores this summer for $39.99, after $20 instant rebate and $50 mail-in rebate, as well as a new 2-year service contract.