Motorola and Verizon Wireless have announced a new high-end, powerful Android-based global ready smartphone created to address both business and personal needs – Motorola Droid Pro, combining 1GHz processor, QWERTY keyboard, 3.1″ touch display, 4GB memory storage, DLNA connectivity and full push corporate e-mail with an advanced corporate-level security in a single device. Motorola Droid Pro is pre-loaded with QuickOffice Mobile Suite, and running on newest version of Google Android platform – Android 2.2 Froyo OS.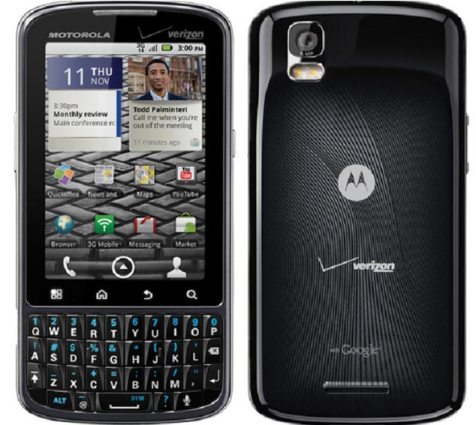 Key Features Of DROID PRO By Motorola (Verizon) Include:
3.1-inch full multi-touch screen with (320×480) HVGA resolution
5-megapixel autofocus camera with dual LED flash
PC-like browsing experience thanks to Adobe Flash Player 10.1
Support both Exchange e-mail and Gmail for business
3G Mobile HotSpot for connecting up to 5 Wi-Fi-enabled devices
Corporate directory look-up, unified calendar for Enterprise and sync with Google Calendar
Microsoft Excel spreadsheets, PowerPoint presentations and Word documents compatibility
AuthenTec IPSec multi-headed VPN integration and complex password support, plus device and SD card encryption (available by early next year)
WiFi-enabled Digital Living Network Alliance (DLNA) connectivity
My Verizon and Backup Assistant support
"The DROID PRO is an advanced business-ready solution that provides users with the full smartphone experience, redefined by delivering the power of a DROID," commented Sanjay Jha, chief executive officer for Motorola Mobility. "The DROID PRO consolidates users' work and personal needs. This is just another reason the DROID PRO is setting a new standard for enterprise, allowing users to enjoy all the benefits of a smartphone with full push delivery of corporate e-mail and corporate level security."
Motorola DROID PRO which measures 60 x 119 x 11.7 mm and weighs just 134 grams is expected to be available for Verizon customers soon but no words on its retail price yet.
Update: DROID PRO by Motorola is scheduled to hit Verizon stores on November 18 for $179.99, after a $100 mail-in rebate with a new 2-year service contract. And the pre-order is beginning November 9.