One of the worldwide market leaders in mobile telecommunications, Motorola has introduced its new MOTOROI, which the company claim as the first smartphone running Android version 2.0 in Korea, offering users an ability to run multiple applications at once and effortless pinch-and-zoom browsing, combining 8MP camera and 3.7″ full touchscreen display in a single stylish device.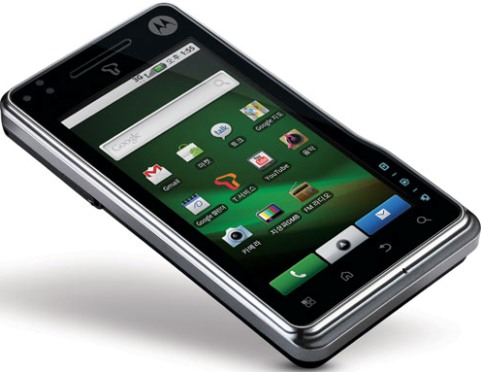 "We are delighted to announce MOTOROI, the first Android-based phone, with SK Telecom in Korea, a key partner in one of Motorola's key markets in the world," said Sanjay Jha, co-chief executive officer of Motorola and chief executive officer of Motorola Mobile Devices. "MOTOROI is a smart phone without compromise, delivering a wiser, richer web and messaging experience with the most delightful touch-interface you have ever experienced, all made possible through the combination of Motorola's expertise in design, a truly differentiated Android experience, and the power of SK Telecom's network."
Features Of Motorola MOTOROI:
Large 3.7-inch high-definition WVGA (480 x 854 pixels) full touchscreen with Motorola's touch UI and capacitive touch sensor
8 megapixel camera with Xenon flash, 720p HD camcorder and Smart image capture (Korea's first HDMI-capable phone)
Smart widgets let users manage their content more easily and conveniently
Support an array of Google mobile services including Google Maps, Gmail, YouTube and Google Talk
5 distinct text-input methods – 3X4 keypad, full QWERTY, half QWERTY, hand writing and writing pad
Terrestrial DMB lets users enjoy up to 24 TV and audio channels for free
Optical dictionary translates immediately through quick scanning, recognizing contact information on business cards then automatically stores information to phonebook
Standard 3.5mm audio jack, MP3 player, Micro SD expansion slot, and screen lock with proximity sensor
"Motorola's smart phones powered by Android are receiving tremendous response around the world, and it is our pleasure to introduce one of them for the first time in Korea," commented Ha Sung-min, MNO president of SK Telecom. "MOTOROI by Motorola will bring a paradigm shift in the domestic mobile market with outstanding Internet, multimedia features and access to the fast-growing Android Market."
Motorola MOTOROI that comes with an unique docking station will hit SK Telecom stores throughout Korea in coming February, and expected to be available worldwide beginning March 2010.