Are you planning to buy a phone for your sweetheart as a gift on this coming Valentine Days? Then, Motorola PEBL Rosa Bloom might be your choice. The global leader in wireless, broadband and automotive communications technologies, Motorola has announced its new mobile phone called as PEBL Rosa Bloom that special design for this coming valentine days. The device is a cutesy little almost egg-shaped clamshell phone that adorned with a rose drawing up front and center.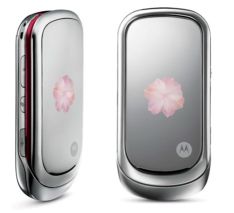 Motorola PEBL Rose Bloom features with touch sensitive panel on its outer that able to respond immediately to the user action and also integrated with 2 megapixel for camera.
Beside that, it also able to allow the user enjoys the song with built in MP3 player and a 3.5mm headphone jack. Furthermore, the user also can transfer their favorite song or picture through it Bluetooth connectivity that able to provide up to 7.2Mbps HSDPA data transfer rates.
Motorola PEBL Rose Bloom will be available in Korea Through SK Telecom and the price is not yet specify.