Download enthusiasts who always do a lot of downloading from the Internet, e.g. photos, videos, files, software, etc, might be of the opinion the current browsers available can do a little bit more to make them more download-friendly. If you are looking for a browser which is customized with more tools for downloading, the free and so called media browser (instead of web browser), Wyzo, might be something you can consider.

Powered by the famous Mozilla Firefox, the free Wyzo browser in fact doesn't offer advanced features that you can't find from other browsers. The strength of this browser is it integrates the BitTorrent capabilities and a set of tools that smoothen and accelerate the download tasks. With Wyzo, users will find it is easier and more manageable to handle their torrent of downloads particularly inexperienced torrent users. Users do not need to source for extra or standalone Bit Torrent program and spend time to learn how to use Bit Torrent. Users can use Wyzo to browse the internet and download torrents from the same browsing environment.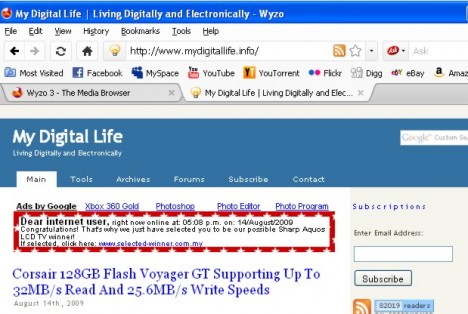 Besides facilitating Torrent download, Wyzo also offers other extras such as Mouse Gestures, Coollris and Quick Switch Tab. Mouse Gestures allow users to execute various commands and user scripts with five types of gestures; Coollris will transform the browser into a lightning fast and cinematic way to look for video media contents; and Quick Switch Tab improve active tabs switching. Wyzo also supports a more secure browsing environment for safer web surfing.
Wyzo has rolled out the latest Wyzo 3.0.3 which can be downloaded via the link here. The browser works in both Windows and Mac OS X. The Linux support is coming soon.