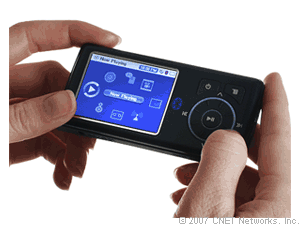 MP3 Players are quite common nowadays. But how many come with Bluetooth facility? Well, Insignia 4GB player – the first MP3 players that offer built-in Bluetooth is available now! The new MP3 player can transmit stereo MP3 music and video soundtracks to a pair of headphones over a wireless Bluetooth connection.

Besides the Bluetooth facility, Insignia MP3 also offers a few desirable features. It can hold up to 1,000 songs and about 14 movies at standard resolution. It supports Window Media Video and also has an FM tuner with 20 channel presets. It comes with video playback capability and also offers subscription music support. In term of hardware, Insignia is about 4in long. It has a 2.2in screen, MicroSD card slot for adding more memory and two headphone jacks as well as an audio input jack for recording. Insignia also provides a rechargeable battery which can lasts about 20 hours on one charge.
Insignia also has its drawbacks. Its Video MP3 Player doesn't include compatible Bluetooth headphones. The player doesn't have the best sound quality, and image quality could be better. Having said that, Insignia is still quite popular and stands out from the crowd due to its Bluetooth feature.