Apple Inc has just released its next generation 3G iPhone and has been getting excellent response from consumers. On the other hand, seems that MWG (which took over O2 last year) is having difficulty to push its newly released Zinc II model to compete against other strong rivals in United States. Recently, MWG America has just announced the price reduction of this recently launched Zinc II, hoping to gain some market shares in this saturated consumer segment. The MWG Zinc II, which is the successor to the O2 Xda Zinc will be available at $600, after a price slashing of $150 as compared to $750 introduction price when it was debuted early last month.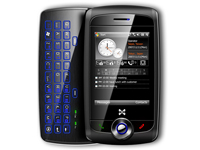 Apparently, this Windows Mobile based device has not able to gain much traction in consumer market as similar to other mobile devices. One thing for sure here is MWG has not able to get any subsidy from any service providers such as AT&T that led to the higher selling price as compared to other similar range competitors' models. If you recall, Apple 3G iPhone is retailed at only $199 (with 2 years contract with AT&T) while this device will be sold three times more expensive, even after the price adjustment.
Regardless of this pricing issue, there are many advantages that users can gain from this mobile device. In terms of functionality, it is enhanced with GPS (Global Positioning System) and is compatible Quad band as well as HSDPA high-speed data capability. Powered by a 500MHz processor with a preloaded latest Windows Mobile 6.1 Professional OS, it is most suitable for both consumer as well as corporate market. That is not all, since no subsidy from any wireless carrier, the phone is unlocked and consumers can choose to use it with any GSM based service network in the world. If you think this device fits your need, now is the right time to grab one at more affordable price as your personal digital assistance.