If you are using iPhone as as PMP (Personal Media Player) and would like to be able to quickly search for your favorite songs, then the recently released app could be something that you are looking for. Named as MyLyrics, it enables users to search for the related songs by just keying in certain portion of the song's lyrics, tracks, artist name and anything that is related to the song.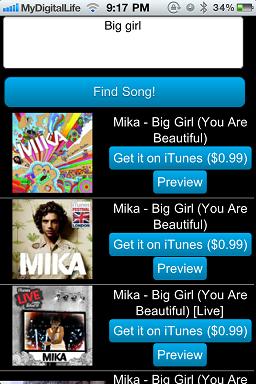 Since this is available in AppStore, users do not need to jailbreak the iOS device in order to enjoy it. As usual, just head over to AppStore and download it and you are ready to go. Once done, and when you launch the app, users will be greeted with a pretty simple interface, where they can enter any keyword into the white text box to start the search. Good thing about this app is any keyword can be helpful in getting you the right songs, and more interestingly, it will list them down with track preview so that users can confirm if this is right one before purchasing from iTunes Store directly.
Even though the free MyLyrics lite version is sufficient for most users, but if you are trying to get rid of bunch of advertisements and search limits, then there is another paid version, MyLyrics Plus which costs $1.99 that you can consider.