The leading publisher and developer of mobile games and entertainment for mass-market casual gamers, Namco Networks has released its famous puzzle-action game i Love Katamari for Apple's iPhone and iPod touch, which utilizes full advantage of the iPhone/iPod Touch's accelerometer to let players tilt the device right, left, front and back to roll the katamari with precision.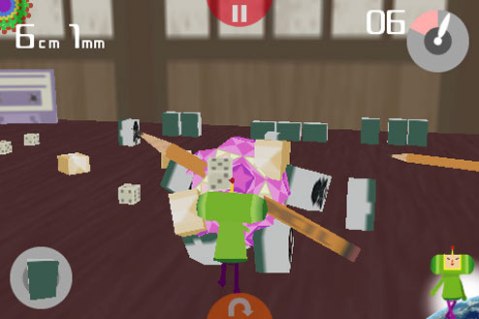 "i Love Katamari is a unique, addictive game that makes great use of accelerometer technology," said Scott Rubin, senior vice president of sales and marketing for Namco Networks. "Similar to Rolling with Katamari on mobile phones, i Love Katamari is a great addition to the Katamari franchise."
According to Namco, "The King of All Cosmos has accidentally knocked all the stars out of the sky during a crazy night out. It is up to the pint-sized Prince to put the twinkle back in the heavens in i Love Katamari. i Love Katamari delivers an experience only possible on the iPhone. The gameplay is simple! Tilt your iPhone to roll your katamari with precision. Roll the katamari ball over various objects in each stage. As more and more objects are rolled up, your katamari will increase in size and it becomes possible to roll-up larger and larger objects."
The i Love Katamari game that features a range of fun-filled modes including Story Mode (find and roll-up the King's requested object), Time Attack Mode (roll up as much as possible in a limited time), Exact Size Challenge Mode (match exactly a requested katamari size) and Eternal Mode (roll at your own pace without any time or size limit) is now available through Apple's App Store for $7.99.