Rumors have been spreading around that Apple Inc. will release a lower end model of iPhone after its recent success story. The model is said to be priced below USD300 which will be launched in the forth quarter. Some analysts forecast that the model could potentially be based on its famous iPod Nano music player. Although Apple Inc. declined to comment on this yet but one of its recently filed patents has indicated that the prediction could be true. The patent actually disclosed and mentioned about multifunction handheld gadget with circular touch pad control, which is similar to current iPod Nano scroll control button.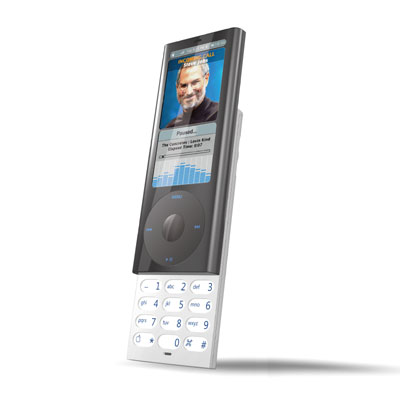 Although iPhone's sales volumes has exceeded 500,000 units even in the first weekend after the official launch, they are many still think that it is too luxurious to own a mobile phone at the pricing of USD500-600. Apple Inc. could have taken this into consideration to come out with a cheaper version that is more affordable by public. When cheaper in pricing also means some of the features will be removed. Anyway, the feature set of this new model is yet to be announced. More interestingly, some may not able to imagine how to trigger the phone dialing function by just using the scroll control button unless with a touch screen or hard keypad interface.
This is definitely a right step for Apple Inc to truly emerge into the middle-end mobile market, competing directly with other famous mobile phone manufacturers such as Nokia, Motorola, Sony Ericsson and etc. Due to the affordable price of its Nano phone, analyst expected that the target sales volume could reach up to 40 million units, which is far higher than 10 million units sales targeted for iPhone in 2008.