Great news for international travelers! National Geographic has targeted the niche travelers' needs with the new National Geographic Duet Travel Phone (D888), which features 2.8-inch QVGA display, VGA camera, FM radio, mobile TV, Bluetooth and dual SIM capability, pre-loaded with National Geographic content including ringtones, wallpapers and travel-related videos from National Geographic Channel.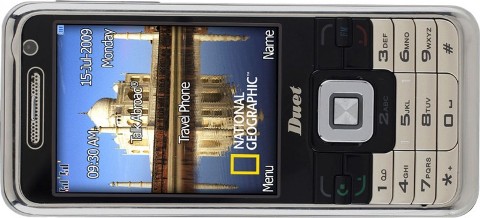 The National Geographic Duet Travel handset comes with a National Geographic's pay-as-you-go National Geographic Travel SIM card that allows free incoming calls in more than 80 countries, as well as affordable calling in 185 countries (30 minutes of outgoing call credit for most countries included).
"Our service offers comparable international coverage to carriers such as Verizon, T-Mobile and AT&T, but at a fraction of the cost. In today's economic environment, there is good reason to utilize National Geographic's international cellular service when traveling," said Sebastian Harrison, president of Cellular Abroad Inc. "The unique features of the new Duet handset perfectly complement the equally unique qualities of the service."
The new National Geographic Duet Travel Phone that bundled with a 1GB MicroSD card and a National Geographic Travel SIM card is available online through CellularAbroad.com, Amazon.com, Expansys-usa.com and other select retailers for around $199.