Handheld Europe has been working on rugged handheld devices targeted for industrial market some times ago and just recently, it showcases a next generation Windows Mobile handheld device during the CeBit 2009 held in Hannover, Germany. The unique about this handheld device is its ability to withstand extreme and harsh environment while able to pack all Windows Mobile program features into it.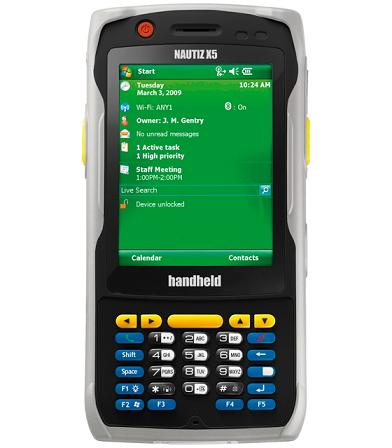 The handheld device is powered by famous Marvell PXA320 Xscale based processor running at extremely high clock speed of 806MHz. Equipped with a 3.5-inch TFT touch screen at 480 X 640 resolutions and further supported with wireless technologies such as EDGE/UMTS/HSDPA and Wi-Fi, it allows seamless internet connectivity with high speed data transmission regardless of the environment you are in as long as there are network coverage. Surprisingly, it can withstand extreme operating temperature from -20 to 55 degree Celsius as well as heavy drop from the height of up to 1.8 meters. To make it a more powerful device, it has been enhanced with internal SiRF star III GPS module together with 1D barcode scanner that makes it suitable for both outdoor and industrial use. All these are well packed in a reasonable size of 160 X 80 X 35.5mm dimension at a weight of 410 grams (inclusive of a high capacity 4400 mAH battery).
No pricing and availability yet, but don't expect it to be cheap due to its stringent design specifications that comply to industrial standards suitable for extreme environment.