The provider of broadband media technology and services, Wavexpress has partnered with NBC to develop and support a free Internet video download service (based on TVTonic) for viewing NBC's coverage of the 2008 Beijing Olympic Games, named as NBC Olympics on the Go, allowing Olympic fans with Microsoft's Windows Vista Media Center to watch channels of Beijing 2008 Olympics (August 8-24, 2008) in up-to-HD quality on their laptops during their commute this summer.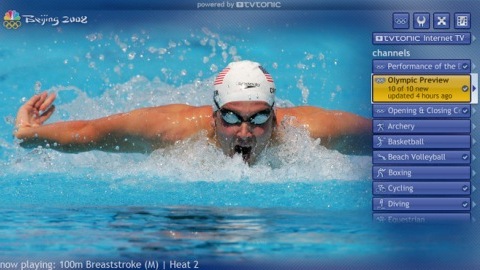 "This service will provide a fantastic viewing experience for Olympic fans with Windows Vista Media Center," said Michael Sprague, President of Wavexpress. "They can choose their favorite sports, from diving to water polo to gymnastics, and extended coverage is automatically synchronized to their PC in the middle of the night. With a laptop, they will get a high-quality video experience to view on the train, the plane, or in the college quad."
"As we prepare to broadcast the Beijing Olympic Games, we are committed to reaching as many viewers as possible," said Perkins Miller, Senior Vice President, Digital Media, NBC Sports and Olympics. "Our partnership with Wavexpress will enable us to reach viewers seeking high-quality in-depth coverage of the wide range of sports that make up the Olympics. The service will especially appeal to fast-paced fans who want to catch up on their favorite sports offline," according to the TVTonic press released.