It is our pleasure to receive the NDrive GPS applications for iPhone for through review. At the first glance, NDrive provides a very neat interface with the whole screen being sectioned into four large menu buttons namely 'Navigate', 'My NDrive', 'Find', 'Settings' with a scrollable arrow key that can bring users to more selection buttons. Touching on any of them will bring users to second level menus with 'Back' button to easily get back to previous main menu. And at any time, the 'map' button will be permanently displayed (at any interface) so that users can access to detailed map layout with both visible and audible navigation assistance while on the go.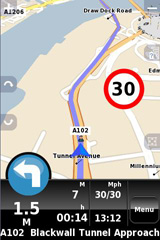 No complicated setup required, users can go to 'Setting' and you will notice that all the sub menus have been nicely arranged for quick setup. All of them are self explanatory and without the need of learning curve, you can just put it under the sky for and wait for valid satellite signal to start navigation. First, I would say that the NDrive apps has been created specifically to take advantage of how iPhone being designed. With its multi-touch capability and sensitive capacitive touch technology, users can easily navigate and control system menu even if you are having big thumb with single-hand operation while driving on the road. In order to have a better comparison, I have able to get another unit of Garmin GPS for side by side driving navigation. This is kind of interesting especially when you can follow the same route and compare the navigation results based on different apps, database as well as GPS hardware modules. For fairer and more accurate software apps review, I will have to ignore the inaccuracy, locking time and signal drop scenario due to the limited capability of embedded GPS module especially those that are used in the smartphones due to its space and cost constraint.
To start navigation, just tab on 'Navigate' and there are various ways for destination selection such as keying in the address, POI (Point of Interest), Recent Location, Postcode, Favorite, Itinerary or coordinates (longitude, latitude). Enter the desired destination followed by 'Navigate' button will display the estimated time and distance required to reach the end destination and the navigation will start instantly. Interestingly, when navigating with NDrive, you will realize that the navigation system is smart enough to be able to inform you to avoid on any small junctions turning so that you will not make any unnecessarily turns which in most cases, the voice navigation will be ignored by Garmin GPS system. While it may sound too 'detailed' but you will truly appreciate it especially when driving in a busy downtown with complicated flyovers and interconnects. Besides, users can easily tilt, zoom in/out by utilizing its multi-touch technology on iPhone device for much faster access and easier control, or even roam over to the destination to determine the route or estimate the traveling distance at any time during the navigation. That is not all, tapping on any point of the map will display the location accordingly followed by pop-up buttons with selection and ability to add it into favorite or personal itinerary, which can be retrieved and set as destination easily for future navigation. On top of this, users can also gets or quick access, users can even able to dial telephone number listed, browse to the homepage of the POI by tapping on the screen in case there is a need to find out more details, for instance, the correct accommodation or hotel, tourism place's opening/closing hours and etc.
Although the apps seems to be impressive, one thing I feel that is still lacking is the detailed and updated database map that is very important especially when in a city that are on fast and dynamic development pace. Obviously, some famous landmarks are still unsearchable in Malaysia map and users may need to try different alternatives for destination selection which could be quite troublesome. Besides, the navigation apps doesn't seem to display any direction if we are moving towards north/south/west/east which could be quite useful as an indicator on top of the estimated arrival time and distance. Similarly to the listed destination after search function, instead of just listing down the distance from current location, the direction (either heading north or south) will at least tell us if we are choosing the right destination as occasionally there could be few locations with similar naming but totally separated apart.
Nevertheless, this is mostly geography dependent and the above scenario could be limited to Malaysia map only but if you take a look at the demo video below, you will be impressed with how powerful the NDrive software can potentially be turned into especially when sufficient data points are gathered to formulate a 3D view of POI with excellent 3D landmarks feature on top of accurate, smooth navigation view and crystal-clear voice assistance.