NEC has put in effort to develop the first language translator software for Japan market. If you have experience in dealing with Japanese customers, most of them can't communicate in English. They may understand what you intend to deliver, but they have difficulty to convey the conversation back to you. Here it comes a helping hand for Japanese especially when dealing with outside world. Good thing is, the famous Japanese CE manufacturer has planned to integrate this feature in mobile phone so that there is no need to carry additional device in the pocket when traveling around.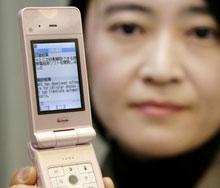 The translation capability is believed to consist of at least 50,000 words in its database and able to translate them from Japanese to English in real time. What the users need to do is just speak (in Japanese) into the microphone embedded in mobile phone, then the word will be recognized and displayed on the LCD (Liquid Crystal Display), before it has been translated to English. It is possible to vocalize the English word but there is no additional effort being spent during current stage.
Only one drawback, since the targeted segment is still Japan market, the device is not capable of translating back from English to Japanese. While with this in mind, I am wondering when there is a device that can capture the actual Japanese characters and translate it to English on the fly using mobile phone camera. It will involve the use of high end image capture processing technology and intelligent software recognition before an actual product could be realized. This would definitely help a lot especially when traveling and shopping around in Japan.