The leading supplier of PCs and servers, Dell has tried to fill the gap of the unique needs of K-12 students, teachers and school administrators with the launch of its new 10.1-inch netbook, named as Dell latitude 2100, which designed specifically for education purpose, featuring "student-rugged" design that able to absorb daily bumps and bruises of crowded playground or backpack, thanks to its unique "four-square-ball-style" rubber casing.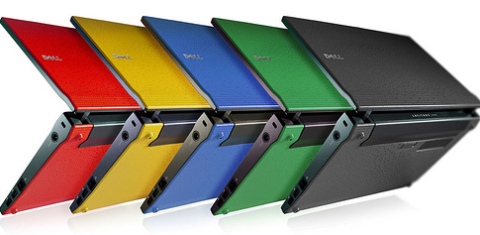 "We're targeting the Dell Latitude 2100 at the education market," said Ken Musgrave, head of industrial design, Dell. "We wanted to develop a product for this space, so we took the time to talk to students and teachers. We used that feedback while we designed the product."
According to Dell, "The Latitude 2100 has unique features for schools like bright primary colors and a more rugged, 'rubberized' design that is easier for children to carry and use safely. It also offers wireless connectivity that can be monitored by the teacher with a Network Activity Light on the netbook lid. An optional touchscreen is a first for an education netbook and makes the Latitude 2100 a perfect choice for enhanced student interaction, assessment, and for special education teaching. The Latitude 2100 also offers administrators a range of services making it easier to deploy and manage."
Highlights Of Dell Latitude 2100:
10.1″ LED-backlit display with 1024 x 576 pixel resolution
Intel Atom processor N270
Hard or solid state drives for increased durability
10/100/1000 Gigabit Ethernet connectivity equipped with a full suite of wireless communication options
3-cell or 6-cell battery
3-in-one Media Card Reader
Optional External DVD+/-RW via USB
Clean bottom is vent-free to avoid any intrusion from spills
Optional webcam and keyboard featuring antimicrobial protection (U.S. only)
Choose between Windows XP Home, Vista Home Basic or Linux Ubuntu
Custom-built Mobile Computing Station equips classrooms with a cart to store
"The Dell Mobile Computing Solution has no manually connected cables and just one power outlet to the wall," added by Musgrave. "A teacher can switch on the cart, plug into a data port and share connectivity via Wi-Fi in the classroom. And because the students are using a Latitude 2100 netbook, updates can be pushed to the systems."
The new Dell Latitude 2100 netbook that offered in 5 colors including School Bus Gold, Chalkboard Black, Ball Field Green, Blue Ribbon and Schoolhouse Red is now available with a starting price at $369.