Xbox consoles with embedded 65-nanometer technology CPU (Central Processing Unit) is on the way to market soon. The platform, known as Falcon is manufactured in China with built in IBM CPU that supposed to be cooler as compared to its predecessor chips using 90-nanometer fabrication technology. Some may think that this could be a good solution to the "Red Ring Of Death" issue on the console. However, more benefits could be foreseen other than this.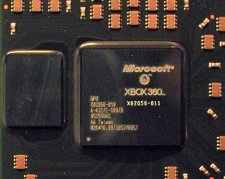 When the silicon process technology becomes more advance, there are few advantages associated to the end products. First, the performance is able to be increase based on the same die size as more transistors can be built in and this will help scale up the processing power significantly. Besides, the manufacturer can bring the cost down with the smaller die size if there is no plan to build a more powerful processor. This is another benefit to Microsoft especially when competing with Sony and other competitors in this gaming segment. The shrinking die could also help to reduce to overall package size so that it could have more slimmer or stylish casing.
The most important one that Microsoft or some of you could think of when transitioning to smaller nanometer technology is to get rid of the heating issue. Smaller chip will have lower TDP (Thermal Design Power) and tends to generate less heat which could potentially resolve overheating issue that is well known for Xbox console. Surprisingly, the GPU still stays with 90-nanometer technology even though the silicon generates equivalent or more heat than the CPU itself.
We should expect the consoles with new CPUs to hit commercial market by end of this year, as there are still some old stocks in inventory that need to be cleared off before a full replacement.