The leader in manufacturer of automotive mobile media solutions, Alpine Electronic has officially announced the availability of its new navigator PND-K3msn. The new navigator has been enhanced with MSN direct service for display real-time traffic, weather, gas price and movie show time information. The new PND-K3msn is almost similar with the Alpine existing navigator PND-K3 except the MSN service.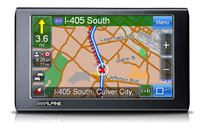 The PND-K3msn is featured with a 4.3-inch touch screen. It also equipped with text-to-speech function, Bluetooth pairing with compatible devices and a highway junction view. In addition, the users also can send Live Search maps to the unit from desktop via send to GPS function which is unique to the PND-K3msn and supports SD memory card.
The PND-K3msn is priced at $300 with a three-month subscription to MSN direct, with the service priced at $50 per year or $130 for a lifetime subscription thereafter.