Are you the fan of the American Idol and own an iPhone or iPod Touch? Then, you can enjoy watching your favorite America Idol with iPhone or iPod Touch. The application is known as American Idol Season 8 Exclusive which is developed by Zumobi and FremantleMedia Enterprise.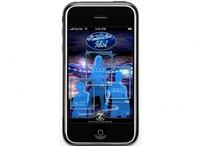 With this application, the users can find the details of their favorite contestants, news, pictures and exclusive video clips from the American Idol show onto the iPhone and iPod Touch. There will be a total of 78 videos available, starting from now until the final week. The users also can download music from recent performances via the American Idol iTunes page.
"'American Idol' is one of the premiere entertainment brands around the world, with a television franchise that is unrivaled," says Ken Willner, CEO of Zumobi. "Zumobi is thrilled to partner with FremantleMedia Enterprises, 19 Entertainment and FOX on the development of this exclusive app for iPhone and iPod touch and we're proud to make it available to millions of Idol fans through The Zumobi Network."
In addition, the application also comes with "My Rankings" feature, which is handy tool for users to keep track and predict the ranking of contestants throughout the show.The American Idol application is now available at the Apple iTunes store for the price of $1.99.