The wireless device company best known as the developer of the BlackBerry handheld communication devices, RIM (Research In Motion) and AT&T have announced that the highly anticipated, admirable BlackBerry Bold (Blackberry 9000) 3G smartphone will hit AT&T retail stores nationwide in coming November 4 (Tuesday).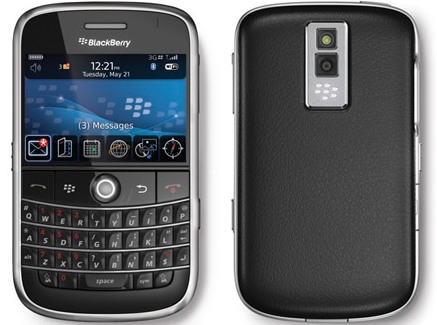 "The BlackBerry Bold is the best BlackBerry smartphone ever, backed by the nation's fastest 3G network and the hands-down best international coverage of any carrier," said Ralph de la Vega, president and chief executive officer of AT&T Mobility. "The BlackBerry Bold is the complete package, providing customers with an absolutely outstanding mobile experience whether doing e-mail, browsing the Web, viewing streaming video or simply making a phone call. And it is being introduced in the U.S. only from AT&T."
According to the release, "The BlackBerry Bold features built-in GPS and Wi-Fi, a powerful new 624 MHz mobile processor that provides impressive performance, more storage memory than ever before — 1 GB on board and up to 16 GB via its microSD/SDHC expansion slot — and a rich set of multimedia capabilities, including an advanced media player for music, videos and photos and a 2 megapixel camera with built-in flash, zoom and video recording, as well as an optimized Web-browsing experience with desktop-style depiction."
BlackBerry Bold From AT&T Boasting Such AT&T Services:
Simultaneous Voice and Data Capabilities — When connected to AT&T's 3G network, customers can conduct a phone conversation and at the same time check e-mail, browse the Web or use another data application, including when tethered to a notebook computer.
AT&T Navigator Global Edition — Powered by TeleNav, the only GPS-based service available from a U.S. wireless carrier to provide international navigation capabilities. AT&T customers can get spoken or text-based turn-by-turn directions with automatic missed turn rerouting and a local business finder service in 20 countries.
Seamless Wi-Fi — Allows AT&T customers who turn on the BlackBerry Bold smartphone's Wi-Fi feature — 802.11 a/b/g — to connect automatically to home or campus networks. AT&T customers also will be able to access more than 17,000 AT&T hot spots nationwide, including nearly 7,000 participating Starbucks locations plus thousands more restaurants, airports, hotels and other convenient locations across the U.S.
CV — CV (Cellular Video) from AT&T gives viewers access to thousands of video clips — news, sports, weather, entertainment and more — directly on a BlackBerry Bold smartphone via streaming video.
AT&T Mobile Music Services — An industry leader in mobile music, AT&T boasts the largest catalog of offerings available today, giving customers mobile access to enjoy XM Radio Mobile, song identification through MusicID, music videos through MobiTV and over-the-air access to the extensive music databases of Napster Mobile and eMusic — just to name a few.
"The development of the BlackBerry Bold smartphone was an ambitious undertaking, and we focused intensely on the things that are most important to mobile customers when developing this best-in-class smartphone for HSDPA networks around the world," said Mike Lazaridis, president and co-CEO at Research In Motion. "The BlackBerry Bold exudes quality in everything from its stunning display sharpness and incredible keyboard to its premium phone performance and sophisticated software applications. It provides an extraordinary mobile communications and multimedia experience, and we are very proud to introduce this breakthrough smartphone in the United States together with AT&T."
The new elegant BlackBerry Bold smartphone from AT&T will be priced at $299.99 with a new two-year service agreement and after mail-in rebate.