Research In Motion and Vodafone have announced the next-generation of RIM's innovative and award-winning touch-screen smartphone – BlackBerry Storm2 (9520), which scheduled to be available for customers in following countries through Vodafone – UK, Ireland, Germany, Netherlands, Spain, France, Italy and South Africa.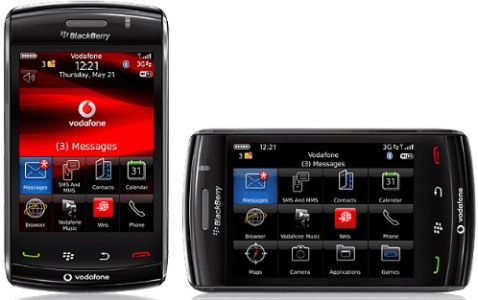 Main Features Of BlackBerry Storm2 9520 (Vodafone):
Large, high-resolution 3.25-inch (360 x 480 pixels at 184 ppi) LCD touch screen with 65,000 colors
3.2 megapixel autofocus camera with variable zoom, auto flash, image stabilization and video recording
Next generation SurePress technology ensures better typing accuracy and a more tactile feel
Background noise suppression technology and loud distortion-free speakerphone
256MB of Flash memory and 3.5mm stereo headset jack
2GB internal memory plus microSD/SDHD memory card slot that expected to support up to 32GB card while available
Integrated GPS for maps, photo geotagging and more location-based applications
Bluetooth 2.1+EDR and Wi-Fi 802.11 b/g connectivity
Powered by latest BlackBerry OS 5 that promises more responsive experience
Access to BlackBerry App World
BlackBerry Media Sync for easily syncing iTunes and Windows Media Player music
Supports BlackBerry Internet Service and BlackBerry Enterprise Server
Pre-installed Vodafone's music client giving access to an extensive catalogue of artists
Talk time: Up to 6 hours ; Standby time: Up to 280 hours
Dimensions: 112.5 x 62 x 13.9 mm ; Weight: 160 grams
According to RIM, "BlackBerry Storm2 smartphone introduces a new SurePress technology based on an electronic system that provides the user with tactile feedback when the touch-screen is pressed. The new system responds equally to gentle pressure applied anywhere on the surface of the screen and makes clicking the display practically effortless. Typing on the smartphone's virtual keyboards is easier, more comfortable and more accurate. The new SurePress technology also allows the user to type a letter with one thumb even while their other thumb may still be touching or resting on another letter, enabling faster typing and multi-key actions such as Shift or Alt -key combinations."
The new BlackBerry Storm2 9520 is expected to hit Vodafone UK stores starting October 26 for free, based on £35 monthly two-year service contract that includes 600 minutes talk-time, unlimited BlackBerry Internet Service, unlimited text messaging, as well as unlimited access to Vodafone Mobile Internet and broadband.