The new flagship BlackBerry Tour 9630 smartphone from RIM is expected to be available at Verizon Wireless and Sprint stores later this summer. It's the powerful feature-packed business smartphone which able to provide users an instant access to emails, calendar, contacts, robust business applications as well as location-based services, ideal for folks who want to stay socially connected on the go.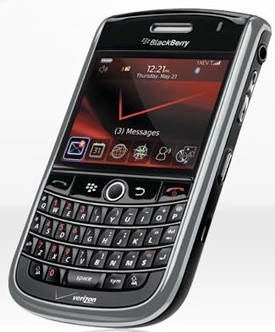 "BlackBerry continues to be the top selling smartphone brand in North America and we are proud to add this powerful new 3G world phone to our successful product portfolio," said Mike Lazaridis, President and Co-CEO of Research In Motion. "With its striking design and exceptional performance, the new BlackBerry Tour will offer a compelling choice for the growing number of wireless customers looking to upgrade their existing cell phone to a smartphone."
Impressive features of BlackBerry Tour 9630:
528 MHz Qualcomm processor and 256MB RAM
3.2 megapixel camera with variable zoom, auto focus, flash and image stabilization
2.44-inch vibrant screen display with 480 x 360 pixels resolution at 245 ppi
Large, highly tactile, full-QWERTY keyboard and intuitive trackball navigation
Easy mobile access to Facebook, MySpace and Flickr, as well as popular IM services including BlackBerry Messenger, Yahoo! IM, AIM, Google Talk and Windows Live Messenger
BlackBerry Media Sync allows users to quickly and easily synch music from iTunes and Windows Media Player with the smartphone
microSD/SDHC card slot supports up to 16 GB of expandable memory
Full HTML Web browser, 3.5mm headphone jack and support for Bluetooth Stereo Audio Profile (A2DP/AVCRP)
Built-in GPS with support for geotagging, BlackBerry Maps and other location based applications and services
Supports BlackBerry App World that include wide variety of applications including travel, productivity, entertainment, games, social networking & sharing, news & weather and more
Includes voice activated dialing, enhanced background noise cancellation and low-distortion speakerphone
Corporate and personal email with attachment viewing, calendar, integrated address book
Preloaded DataViz Documents to Go for viewing and editing Word, Excel and Powerpoint documents
1400mAh Lithium Ion battery supports up to 5 hours of talk time or up to 14 days of standby time
"The BlackBerry Tour is a sophisticated and powerful smartphone that will enable customers to be more productive and better equipped to manage their busy business and personal lives; and global travelers can rest easy knowing Sprint has a solution to keep people connected wherever their travels may take them," commented Kevin Packingham, senior vice president – Product Development, Sprint. "Particularly compelling for world travelers will be the performance enabled by combining the new feature-rich BlackBerry Tour with Sprint's 3G network and some of the world's other most robust voice and data networks."
The new BlackBerry Tour smartphone which measures 4.4 x 2.4 x 0.5-inches and weighs 4.5 ounces will hit Sprint stores later this summer for $199.99, after a new line of service or eligible upgrade, 2-year service contract, $50 instant rebate and $100 mail-in rebate.
In addition to Verizon Wireless and Sprint, the BlackBerry Tour smartphone are slated to be available in Canada through Bell Mobility and Telus carriers.