Canon has launched a pair of new camcorders which are named as XF305 and XF300. Both camcorders are being designed to aim for the professional market. The Canon XF305 and XF300 are claimed to be the first models to use the new MPEG-2 4:2:2 50Mbps codec for capturing and recording native 1920 x 1080 video content onto affordable and reliable Compact Flash (CF) cards.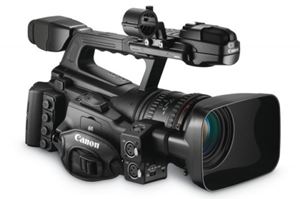 The Canon XF305 and XF300 are featured with a 0.52-inch viewfinder with 1.55-megapixel resolutions. Both camcorders are equipped with a 0.4-inch LCD monitor with 1.23-megapixel resolutions. Other features of the camcorders including a Genuine Canon 18x HD L-series lens with SuperRange Optical Image Stabilizer (OIS) system, the DIGIC DV III Image Processor, Face Detection technology, built-in stereo microphone and dual XLR inputs for external audio sources.
"The creation of HD video content continues to grow across every market category," stated Yuichi Ishizuka, executive vice president and general manager, Consumer Imaging Group, Canon U.S.A. "We are proud to introduce the new Canon XF305 and XF300 Professional Camcorders, which provide extraordinary image quality, a generous array of features and seamless integration with file-based workflows, all at an attractive price. These camcorders provide the convenience, production cost and quality that the HD video market has been asking for."
The Canon XF305 and Canon XF300 Professional Camcorders are expected to be available in late June with an estimated retail price of $7,999 and $6,799 respectively.