Looking for ideal Christmas gift? The worldwide leader in digital entertainment products, Creative has launched its new slim and compact digital HD camcorder that tiny enough to fit easily in a pocket – Creative Vado HD Pocket Video Cam, which captures video in 720p high-definition quality, claiming as the only pocket video camera to feature high quality HDMI connectivity and included HDMI cable that provides 1080i output to HDTV.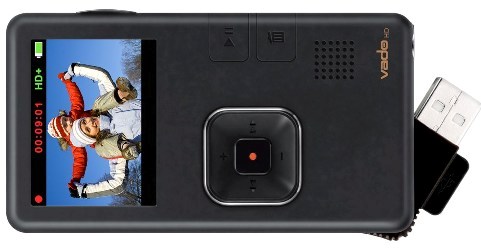 "We designed the Vado HD so you can easily shoot all of life's spontaneous and fun moments, and then come home and watch your videos on an HDTV – all with true high-definition quality," said Steve Erickson, VP and GM for audio and video at Creative. "You can upload the videos to your PC, or what's really cool is to watch them on your HDTV in full HD quality. Some cameras such as the Flip Mino HD record HD video but don't let you output it in high definition to your HDTV. Even the New York Times laments, 'the Mino HD is a hi-def camcorder that can't play your movies in high def on a high-def TV.' The Vado HD delivers 1080i high-definition video to an HDTV, plus it offers the convenience of an HDMI connection."
Impressive Features Of Creative Vado HD:
Captures 1280x720p HD video with the wide angle precision-engineered glass lens
Large 2-inch antiglare LCD screen (16 million colors ; 640 x 240 pixels)
Connect your Vado HD camcorder to HDTV with the included HDMI cable and enjoy your videos in full 1080i HD quality
Removable Lithium-ion battery lets users enjoy 2 hours of recording and playback
Large 8GB internal memory can record up to 2 hours of stunning HD plus quality video, up to 4 hours of HD quality video or up to 8 hours of video at VGA resolution
Latest H.264 video compression technology provides unprecedented video quality at ultra-efficient file sizes for the best possible viewing experience
Built-in Vado Central software and Vado HD's flexible USB tab for posting videos to YouTube and Box.net, plus Muvee software for video editing and customization, and capturing snapshots in still and burst mode
Slim, lightweight and pocket-sized design
The new Creative Vado HD Pocket Video Cam which measures just 3.9″ (H) x 2.2″ (W) x 0.6″ (D) and weighs only 100g (with battery) is now available for about $230.