The famous PC maker, Dell has launched its smallest, most personalized and most environmentally responsible consumer PC – Studio Hybrid, which the company claims is about 80% smaller than the typical desktop minitower and uses up to 70% less power, aiming to enhance personal expression and creative living.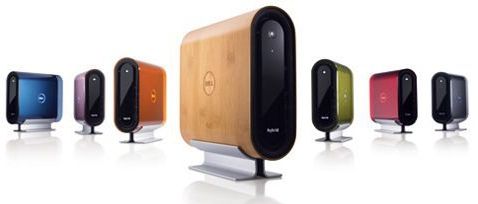 "The design and craftsmanship of the Studio Hybrid alone are enough to cause you to do a double take," said Michael Tatelman, vice president, global consumer sales and marketing. "Combine that with the performance of this little beauty and its environmentally smart DNA, and you've got something truly unique – something that you can make your own."
Optional Technologies And Peripherals Of Dell Studio Hybrid:
Optional Wi-Fi networking allowing people to place the PC anywhere that's convenient for them
Optional wireless keyboard and mouse help ensure a clean desktop, counter top or coffee table
Optional Blu-Ray Disc drive for watching high-definition DVDs
Optional TV tuner that enables users to watch, pause and record live TV
"Our goal was to design a desktop that fits in the office or in the living room, or anywhere space is at a premium," said Michael Scheschuk, desktop product marketing. "We've created a desktop PC category that combines style, performance and a high degree of energy efficiency."
According to the release, "Dell also unveiled two new Inspiron PCs, including the Inspiron 13, a sleek and stylish sub‑$800 13-inch laptop perfect for students heading back to school, available starting next week at Wal-Mart. The Inspiron 518 desktop, available immediately at www.dell.com, is designed for everyday family multi-media activities, be it catching up on favorite TV shows via the Internet, playing online games, and storing and accessing music playlists and digital images."
Unique Packaging Of Studio Hybrid Was Designed To Be Environmentally Responsible:
Reduced packing materials 30 percent by weight
Packing materials are also 95 percent recyclable
Reduced printed documentation 75 percent by weight
System recycling kit is included
The new Dell Studio Hybrid is available now on its official site and expected to be featured in select retailers later this fall, along with a starting price of $499 (without monitor). Check more details of Dell Studio Hybrid on its official site.