Pure Digital has officially launched its two new Flip cameras, Flip Ultra SD and Flip Ultra HD. The two new Flip cameras have been designed with a 2-inch LCD and HDMI output through an optional cable. The ultra pocket-sized cameras have been improved with a replaceable battery for longer recording times which support up to 3 hours for Flip Ultra HD with 720 resolutions and 5 hours for Flip Ultra SD with standard resolutions.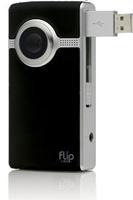 Featured with a camera with 2x digital zoom, the camera is also equipped with a USB connector for PC connector. In addition, both cameras are also support basic videos editing  while connected to PC , has built-in speaker and support AA batteries.
The Flip Ultra SD and HD is expected to be available soon for the price of $149 and $199 respectively.