The Internet search engine giant, Google is developing a new web-publishing platform which similar to Wikipedia, called as Knol. The new Internet service is designed to allow anyone to create a page on any topic and the visitors can submit comments, questions, additional contents and rate articles if the primary author allows, aiming to encourage people who know a particular subject to write an authoritative article about it.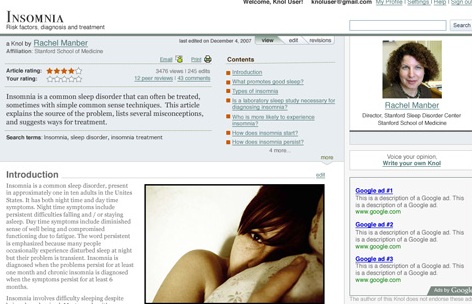 "The key idea behind the Knol project is to highlight authors. Books have authors' names right on the cover, news articles have bylines, scientific articles always have authors — but somehow the web evolved without a strong standard to keep authors names highlighted," according to the official Google blog. "We believe that knowing who wrote what will significantly help users make better use of web content. At the heart, a knol is just a web page; we use the word "knol" as the name of the project and as an instance of an article interchangeably."
Right now, the amazing Knol service is in a private test beta and just a selected group of people are invited to try the new and free tool. Once Knol testing beta is completed, participation in knols will be completely open to public.
Besides, authors will also have the option to enable Google ads and share in revenue, seems like a perfect way to earn an extra income. And it's interesting to see if Wikipedia will go ad-supported too, instead of keep asking for donation.