The Taiwan-based company, High Tech Computer Corp. (HTC) has recently official announced its new HTC Touch Dual, an upgraded version of an impressive HTC Touch which we've previously called HTC Touch Slide. The latest HTC Touch Dual is comes with an 3.5G device with HSDPA high-speed data, UMTS (i.e. 3G), EDGE, GPRS connectivity and even an innovative, sleek and stylish sliding keypad, as what you see in the photo.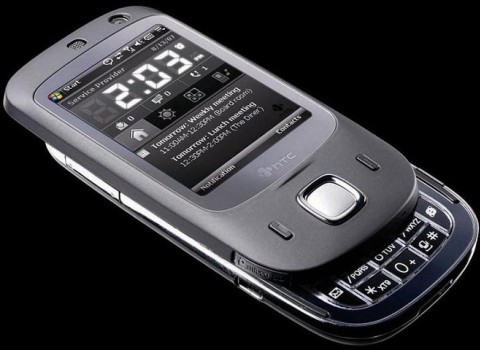 According to HTC, the Touch has sold over 800,000 units in Europe alone, and this new redesigned model should definitely strengthen the Touch reputation.
Key Features Of New HTC Touch Dual ( Touch Slide):
Discover TouchFLO™, a revolutionary touch-screen technology that allows finger-touch scrolling, panning and photo zooming
Innovative 3D touch cube interface for quick and easy navigation
Slide-out 20-key keyboard or 16-key keypad for single-handed typing
Worldwide connectivity (HSDPA, 3G, and GPRS/EDGE/GSM)
Windows Mobile® 6 Professional with Direct Push Outlook® e-mail
Live HTC Home™ featuring time and weather display, quick launcher, and one-touch ring tone settings
2 megapixel camera for shooting photos/videos and a second camera for video calls
"The HTC Touch Dual expands the HTC Touch product family and integrates 3.5G connectivity and a sliding keyboard into a slim and stylish design. This combination provides customers with the most uncompromising and intuitive touch experience available on a phone," said Peter Chou, chief executive officer of HTC. "The HTC Touch has not only changed the way people interact with their phone but it has redefined what touch means on a consumer device. HTC is committed to bringing advanced levels of technology to consumers with continuous innovation. The HTC Touch Dual is the next step forward."
The stylish and cool HTC Touch Dual is expected to be a next hot-selling cellphone!