KDDI and Sharp have teamed up to announce a new Android device which is known as IS01 smartbook. The smartbook has been featured with a QWERTY keyboard for improving text-typing and messaging. The IS01 smartbook has been powered by Snapdragon 1 GHz processor and runs on Android 1.6 operating system.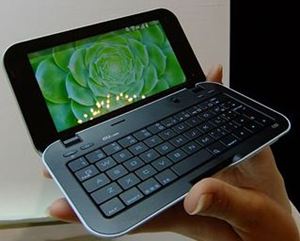 The smartbook is featured with a 5-inch touch screen display with 960 x 480 resolutions for achieving great movie playback. The IS01 smartbook is also equipped with 4GB of internal memory. It boasts a 5-megapixel camera with auto-focus function, integrated A-GPS and music player which supports AAC, HE-AAC, MP3, PCM / WAVE and MINI file formats, has built-in 4-GB of internal memory and supports Wi-Fi as well as Bluetooth. Additionally, it has built-in 3G CDMA module for communication and supports up to 16GB of microSDHc memory card.
Available in black and light blue, the IS01 Smartbook with dimension of 83 x 149 x 17.9mm and weighs 227g is expected to be available in October. However, the price of the smartbook is not yet announced.