JVC has introduced a new flagship of its ProHD camcorder line which is named as GY-HM790. The new ProHD camcorder is being developed to address the needs of the modern broadcast and production facilities to offer the highest level quality of HD picture in both 1080i and 720p formats.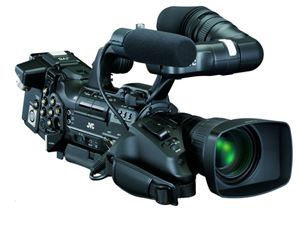 The new camcorder is featured with an innovative modular design and a full complement of accessories for supporting multicore or fiber-based production. Besides, it also can be used as a shoulder-mount camcorder to deliver outstanding ENG and sports production performance.
Key features of the ProHD GY-HM790 camcorder:
Three 1/3 CCD optical system provides full HD resolution images.
supports 4:2:2 processing.
Built-in Genlock.
supports 1080i ,720p and 480i multiscan.
Industry standard bayonet lens mount.
Integrated with HDSDI output.
Can also provide downconverted SDI output for live or playback.
Patented Focus Assist function.
Extensive image customization modes such as gamma, matrix, knee, detail and etc.
Compact Shoulder form factor.
Records to dual hot swappable SDHC memory cards.
Professional recording with selectable data rates up to 35Mbps – 1920 x 1080 or 1280 x 720P.
SD recording capability (DV data format).
Native file recording including Native Final Cut Pro format and .MP4 file format.
Compatible with most popular editing systems.
Pool feed input (analog SD).
Time code IN/OUT.
High resolution (1.22 million pixel) Liquid Crystal on Silicon (LCOS) viewfinder.
Large (4.3-inch) flip-out LCD monitor.
Pre Rec (retro cache) function prevents "missed shots".
Variable frame rate recording (over crank, under crank).
Built-in clip viewer and management system.
Uncompressed LPCM audio (2ch) recording.
Optional ASI output module.
"The excellent image quality of the GY-HM790, coupled with its versatility for both studio and ENG use, makes it an attractive camcorder for broadcasters in any DMA," said by Craig Yanagi, manager of marketing and brand strategy. "Plus, our optional ASI module makes it easier than ever to produce true HD reports from the field. The GY-HM790 does more than shoot great pictures, it literally changes the way live news reports can be produced."
The JVC GY-HM790 ProHD camcorder is expected to be available in July 2010 and is priced at $11,995 with Canon 14x HD ENG lens.