The global leader and technology innovator in consumer electronics, LG has launched a new phone which is named as LG Cookie Fresh GS290 in UK. The phone has been featured with a full touchscreen display and maintains the core features of the original LG Cookie handset. The sleeker design phone is available in a choice of bold color variations with numerous theme options which makes it the most handset of the LG Cookie Series yet.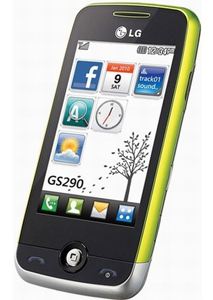 One of the notable features of the LG Cookie Fresh GS290 is the Sociability with an easy-to-use functions which has been designed to help users keep in touch with their friends, irrespective of time and place, through a visually dynamic and interactive experience. Moreover, the phone offers a simple SNS (Social Networking Service) connector which allows direct access to social networking services such as Facebook, LiveSquare and etc.
"The LG Cookie Fresh GS290 reflects our efforts to bring creativity and fun to the mobile touch-phone experience," said Paul Trueman, Marketing Director UK & Ireland for LG Electronics. "Over 13 million units of the original LG Cookie have been sold worldwide and by extending the Cookie range we're continuing to provide affordable full touchscreen phones to consumers. The LG Cookie Fresh GS290 builds on the original Cookie device with even more fun features and personalisation options."
Key features of the LG Cookie Fresh GS290 includes:
Simple SNS Connector – Enjoy direct access to your social networks with the dedicated Facebook interface.
LiveSquare – Bring your digital social network to life by assigning avatars to your friends and keeping track of your conversations in a visually creative way.
Cookie Speed Dial – Enjoy easy access to your close friends with an updated version of the Cookie phone's popular speed dialing home screen.
Dynamic Design – Offers the most distinctive look of the LG Cookie Series, with sleek minimal lines, less bezel and comfortable grip with rubber trimmings and a choice of 16 colours.
Cartoon-styled UI with Customisable Colour Themes – Animated interface offers a touch of fresh originality accentuated by the phone's 18 colorful themes for greater personal expression.
Widgets and Applications – Enjoy popular mobile applications such as AccWeather (pre-installed) as well as Amazon Search, Fox News, eBay Search and The New York Times all downloadable from the included LG Widget Gallery.
My Multimedia – A 2MP camera, MPEG 4 video and MP3 audio playback support, FM tuner/recorder and 3.5mm earphone jack.
The LG Cookie Fresh GS290 is expected to be available soon in UK via Vodafone, Virgin, Tesco and Phones4u.