The leading company in mobile communications, LG has unveiled its new LG-GD910 3G Touch Watch Phone at CES 2009, which the company claims as the world's first market-ready Touch Watch Phone with 3G Video Telephony (VT) service and GSM Quadband Network capabilities.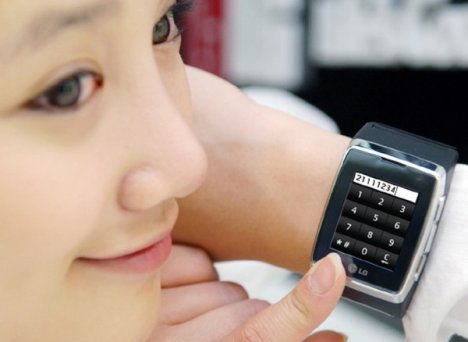 "Our new 3G Touch Watch Phone is stylish, sophisticated and the height of technology, but it's also undeniably fun. How else can you reenact those scenes from your favorite sci-fi or spy movie," said Dr. Skott Ahn, President and CEO of LG Electronics Mobile Communications Company. "The Watch Phone also demonstrates LG's technological leadership, proving that we can bring all the components in today's most advanced mobile phones down to a very small scale."
Key Features Of LG GD910 Wristwatch Phone:
1.43-inch color full touchscreen LCD display
LG's intuitive Flash Interface
7.2 Mbps 3G HSDPA compatibility enables high-speed data transmission and video phone calls using the built-in camera
Mp3 player and voice recognition capability that can be used with or without Bluetooth headset
Text to Speech (TTS) reads text messages and other information out loud for even greater convenience
Stereo Bluetooth and built-in speaker for playing back music files
"This Watch Phone is the result of a great deal of research and development, something that is very important to us at LG," added by Dr.Ahn. "We will continue to invest in creating innovative new products and technologies like this and setting trends in the mobile phone industry."
The new stylish LG-GD910 wrist phone which measures just 13.9mm thick is expected to hit European market later this year.