LG Mobile Phones has announced that its new LG Versa will be available on Verizon Wireless beginning March 1, 2009. The new elegant LG Versa will feature an advanced web browsing and animated touch screen interface with tactile feedback, along with an attachable QWERTY keypad.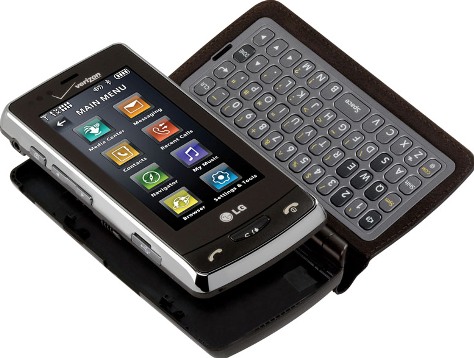 According to the release, "Customers can personalize their LG Versa phones based on their messaging needs on any given day – either attach the QWERTY keypad to their phones or leave the keypad at home. The LG Versa's home screen is transformed into a sizzling, animated 3D interface and customers can quickly customize up to three different home screens with their favorite shortcuts. The built-in accelerometer rotates screens automatically from portrait to landscape, and customers can use rotation movements to steer games. The HTML Web browser includes Flash and RSS feed support, and customers can keep up to three windows open and switch from one window to the other to view pages."
Impressive Highlights Of LG Versa:
2-megapixel camera with autofocus, flash, image editor, Face Detection and SmartPic technology, plus video recording capability
3-inch 262K color TFT screen display with 480 x 240 pixels resolution
External 0.94-inches monochrome OLED display with 56 x 120 pixels resolution (only available on the QWERTY keypad attachment)
Virtual QWERTY keypad
Bluetooth Version 2.1 + EDR (Enhanced Data Rate)
Ambient light sensor controls the brightness on the LCD screen according to surrounding light
Proximity sensor turns LCD off when a customer is placing a call on the handset
microSD memory port with up to 16 GB support coming soon
USB Mass Storage transfers files between microSD card and PC
Animated (3D) three-dimensional interface for home screens – customize up to 3 home screens with favorite features and applications
VZ Navigator-capable – get visual and audible directions to thousands of destinations, locate businesses and other points of interest, get maps of a location and share directions with others
Chaperone Child-capable – allows the LG Versa to have its location shared with family members via the Chaperone Web site, the Chaperone Parent application or Child Zone SMS alerts
Chaperone Parent-capable – with the Chaperone Parent application, customers can view location information or be notified of the whereabouts of the Chaperone Child phone
Mobile Web-capable – customizable, enhanced wireless access to the latest in news, sports, weather and more
Mobile Email – access MSN Hotmail, America Online and Yahoo! accounts to exchange e-mail
Media Center-capable – downloadable games, ringtones, wallpapers, location-based services and more
Mobile IM using AIM, MSN, Yahoo!
Visual Voice Mail, speakerphone and voice commands
Supports Verizon Wireless' V CAST Music with Rhapsody and V CAST Video services
Usage time: up to 290 minutes ; Standby time: up to 430 hours
The new LG Versa mobile phone that measures 4.16 (H) x 2.07 (W) x 0.54-inches (D) and weights at 3.81 ounces will hit Verizon Wireless Communications Stores and its official Web Site starting March 1 for $199.99 after a $50 mail-in rebate and new 2-year service agreement.