One of the leading providers of computer peripherals & accessories, Logitech has announced the availability of its new hybrid gaming keyboard that designed to complement your Logitech keyboard and mouse – Logitech G13 advanced gameboard, offering up to 87 ways for gamers to control their game.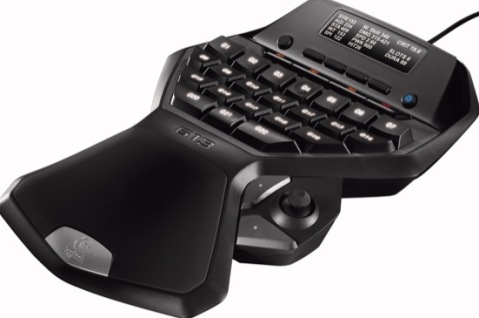 "If you're into serious gaming, there's no better feeling than playing with the G13 gameboard by your side," said Ruben Mookerjee, Logitech's director of product marketing for gaming. "Unlike other gameboards that focus only on programmability, the G13 advanced gameboard incorporates the principles of our award-winning Comfort Wave design. So whether you're getting into World of Warcraft or walking into your next LAN party, the G13 gameboard gives you a powerful advantage over those forced to work with less."
Impressive Highlights Of Logitech G13 Advanced Gameboard:
Naturally contoured design – Follows the natural shape of your hand and fingers for increased comfort during long sessions
Large, concave buttons – Let you locate buttons by touch on the home row
Solid, stable design – Helps assure that your gameboard will keep up when your game gets intense. Strategically placed feet. Stable weight (650g)
25 programmable keys – Customize keys to suit your style of play
Quick macros – Assign complex actions to single keystrokes—on the fly
Programmable analog mini-joystick – Maneuver quickly and easily. The control you need is under your thumb
Backlit keys – Let gamers easily locate the right key in low-light conditions or lights-out play. Plus, you can customize the keys with any backlight color that you want
Integrated high-visibility GamePanel LCD (160 x 43 pixel) – Gather tactical information, including live stats, system info and communications from fellow players
Public software development kit (SDK) – Upload the latest enhancements developed exclusively for GamePanel by the Logitech open-source community
Portable design – Keeps the game going wherever you go
According to Logitech, "A handy solution for the laptop gamer, the G13 gameboard includes onboard memory, letting you program up to five ready-to-play profiles and take them with you to your next LAN party. The G13 gameboard also offers pre-configured settings for many popular games, including World of Warcraft: Burning Crusade, Lord of the Rings Online: Shadows of Angmar, Call of Duty 4: Modern Warfare and many others."
The new Logitech G13 advanced gameboard will be available in the U.S. and Europe later this month for about $80.