The world leader in personal peripherals, driving innovation in gaming and wireless devices, Logitech has announced the availability of its new Speed Force Wireless racing wheel, which the company claims as the first force feedback wheel for Nintendo Wii, aiming to provide a realistic driving experience for Wii gaming console and EA's highly anticipated racing game – Need for Speed Undercover.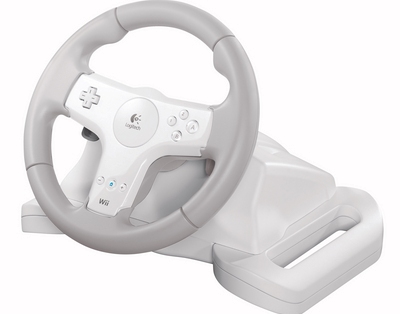 "We're excited to team up with Nintendo and Electronic Arts to bring driving realism to the Wii and Need for Speed Undercover," said Ruben Mookerjee, Logitech's director of product marketing for gaming. "Logitech has been at the forefront of force feedback technology for more than a decade, and we're confident that our driving platform will be an indispensable part of the racing experience on Wii as more titles that support it become available."
Highlights Of Logitech Speed Force Wireless Racing Wheel:
Full-featured racing wheel providing a realistic driving experience
2.4 GHz wireless technology delivering exceptional control from up to 30 feet (10 m) from the console
Force feedback recreating bumps, crashes and traction loss with jaw-dropping realism
One-piece design reducing clutter and makes setup and storage easy
Expandable lap rest allowing for comfortable game play without being bound to a table or desk
Built-in gas and brake controls putting precise, fast action within easy reach
"As the world's most popular racing franchise, Need for Speed is committed to delivering players superior racing experiences," said Larry LaPierre, Vice President at Black Box, developer of Need for Speed. "This November, Wii gamers can fully experience the thrill of the chase in Need for Speed Undercover with Logitech's force feedback realism."
The new Logitech Speed Force Wireless racing wheel that licensed by Nintendo will be available in coming November for about $100.