After successful of launching Motorola A1200 MING mobile phone in China, Motorola again introduces the new A1210 MING mobile phone. The flip phone is based on Linux operating systems, and that made it unique and special.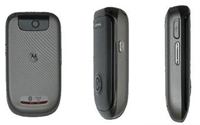 Sports with a 2.8-inch QVGA touch screen with 400 x 240 resolutions, Motorola A1210 is also featured with a 3.1-megapixel camera. It powered by TI OMAP850 processor, supports tri-band 2.5G GSM connectivity without 3G enabled, built-in a FM radio and a video player.
Additionally, it is Bluetooth enabled, equipped with 64MB internal memory and supports a microSD memory card slot for additional storage capacity.
The stylish phone with measurement of 102 x 53.8 x 20.5mm is expected to be available in China market and the price is not yet specify.